An etherealgirl's Adventures in Cyberland
Friday, December 16, 2005
not exactly my beautiful launderette
In just a few short hours we are taking our daughter to the airport so she can fly out to spend Christmas (her very first one apart from us.... EVER! sob...) with her boyfriend's family in Virginia.
I'm a nervous wreck and I just can't sleep. The last two days I was supposed to be completing my final project and take a final exam but the washing machine - and my whole world it seemed - stood still as I went into emergency mode trying to help Mina get ready for this momentous - and overwhelming - trip.
The final exam has been rescheduled for Monday and the Final Project is due Tuesday and the clothes are washed and packed thanks to a serious chunk of time spent at the Bizzy Bee Laundromat today; and I'm exhausted but I just. can't. sleep.
But here's an item that I found while insomnia-induced netsurfing:
Jimmy Page Receives the OBE from the Queen for ABC Task Brazil Charity Work
!
I guess he got it on the 14th the same day my washing machine went into revolt.
Wish I could've been there instead but it is a lovely bit of news nevertheless!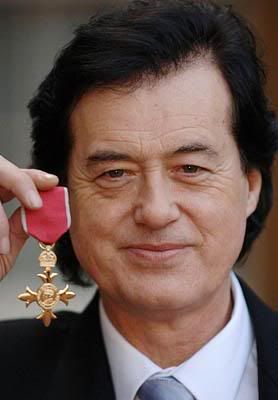 Jimmy holds up his OBE for the camera!
By Fiona Hanson, AP pool
And one more for good measure, coz I'm image-greedy!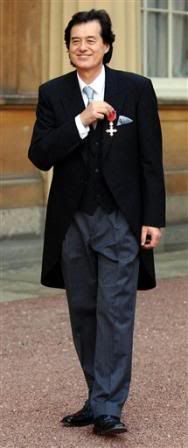 AP Photo/Fiona Hanson, pool
Posted by etherealfire ::
2:54 AM
::
3 Comments:


---------------oOo---------------