An etherealgirl's Adventures in Cyberland
Thursday, February 24, 2005
muir woods
I've been cranky all day. I'm not feeling too swell and my mood has reflected it. But nothing makes me happier than reveling in the beauty of nature so I wanted to lighten up the blog a bit and help myself feel a little better at the same time.
The best cure I could think of is a post about a place that I've never gotten to see yet but I know I will one of these days, hopefully very soon, because I've always wanted to spend time there and just take in all that majestic beauty!
Beautiful
Muir Woods
, near San Francisco, named after naturalist
John Muir
, is a legendary wooded paradise, preserving the "last old growth coast redwood forest in the San Francisco Bay Area".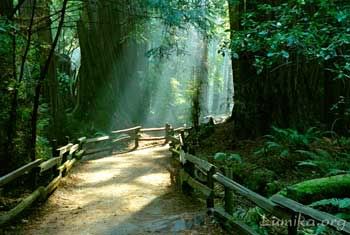 gorgeous photo of Cathedral Grove in Muir Woods
courtesy of
Lumika.org
Go feast your eyes on all the beautiful images to be found there!
Also be sure to check out
The John Muir Project
dedicated to the preservation of our federal public forest lands!
Posted by etherealfire ::
7:03 PM
::
0 Comments:


---------------oOo---------------