An etherealgirl's Adventures in Cyberland
Tuesday, June 28, 2005
sweet scented stress busters
courtesy of
AromaWeb
.
My in~laws sent my a beautiful little aromatherapy chest with a diffuser, tea lights and several essential oils for Christmas a couple of years ago. A real luxury and so easy to use. But I've been looking to add more oils to the collection and
this site
has a recipe box with several blend options tailored to the effect you are looking to find.
My favourite essential oil that came in the box is the Sweet Orange Essence for soothing and calming the nerves; but I love it just as much for the gorgeous scent that fills the air. In fact, it has been a long day (and already) a pretty long week, so I'm enjoying the perfumed rarified air right now! Pure Heaven! And a lovely way to help me unwind.
And now that I'm getting so relaxed and the digital camera has become something easy to use, I will torture you with gratuitous, highly unnecessary photos, mainly because I can ~ and because I've become determined to try to get good at taking pictures and that means I'm foisting my so-so results of on you poor souls! :-p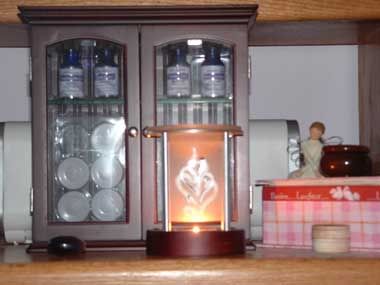 The aromatherapy chest and diffuser that looks alot better in real life, temporarily stationed on my desk so I can enjoy the scent and practice taking pictures of it.
And while we're at it, please allow me to present my own special little piece of heaven, Joy Central: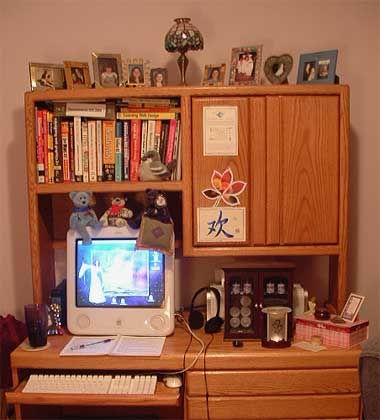 my beautiful little eMac (Joy II) and my desk that is overcrowded with my computer/web design books (and inside the cabinet is
part
of my cherished astrology book collection) and lots of little objects of affection that have personal meaning.
More of my very favourite books are in the tall bookcase to my right and the short bookcase to my left (neither in the picture) along with the goldfish tank and the birds' house (also not in the picture... I'll save that for
another
day of torture), and still more of my most chereished books in the tall bookcase in my bedroom and (horrors!) in stacks on the floor on my side of the bed.
Too much information I know. I think I've inhaled too much sweet orange essence...
Finally, because I think it's just so pretty, here's my latest desktop: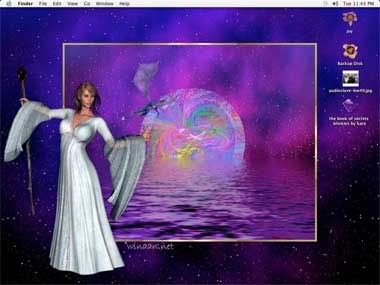 which I found at
Winaan's Designs
; lots of lovely wallpapers there!
Posted by etherealfire ::
10:52 PM
::
0 Comments:


---------------oOo---------------