An etherealgirl's Adventures in Cyberland
Saturday, April 22, 2006
paradise reclaimed
Before paradise is completely lost, we can reclaim it for her.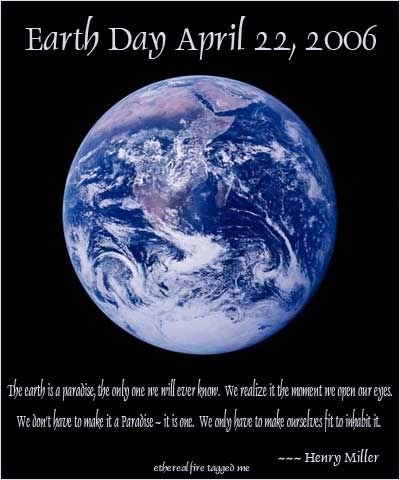 Those who dwell among the beauties and mysteries
of the earth are never alone or weary of life.

~~~~ Rachel Carson
Some good reading today:
Earthday Network Homepage
Earth Day Footprint Quiz
InternationalEarth Day ~ The Official Site
Saving the Future By Looking to the Past
John Muir took walks on the wild side
Sauntering in the footsteps of John Muir
Wishing each and every one of you a beautiful, peaceful and inspiring Earth Day. Take joy in natural beauty today and remember Mother Earth is all we've got. Love and respect your Mother by taking care of her and protecting Her!
Posted by etherealfire ::
6:26 AM
::
2 Comments:


---------------oOo---------------